California Air Tools 8010 Review – CAT-8010
Updated: 04/26/2020 – Tired of your noisy old air compressor? The California Air Tools 8010 Ultra Quiet Compressor is a good choice as a replacement or first-time purchase if quiet operation is a main concern.
The CAT-8010 features a 1 HP dual piston pump motor that is oil-free for minimal maintenance. Coupled with a portable 8-gallon steel tank and wheel kit, the entire air compressor is a easily manageable 48 pounds. With a low current draw of only 8.5 amps, the compressor can be used virtually anywhere there is a standard 120-volt outlet.
​CAT​​​​-​​8010 Quick Specifications:
​​60 dB Ultra-Quiet

​​​1 HP Oil-Free Pump

120 Volts – 8.5 Amps

120 PSI Max Pressure

​8-Gallon Steel Tank
California Air Tools 8010 – ASIN B00WM1VPKE
At a ultra quiet 60 dB, the California Air Tools 8010 is the one of the quietest air compressors in it's class.
California Air Tools 8010 Product Video
Ultra-Quiet Series SP-9413 Pump
The CAT-​8010 features the ​Ultra-Quiet Series ​SP-9413 pump motor, with thermal overload protection to help prevent damage from overheating. ​This is a oil-free dual piston pump which has a 3000 hour before service rating. The ​SP-9413 is rated at 1.0 HP running and ​2.0 HP peak.
The 1 HP pump outputs 2.2 CFM @ 90 PSI with a maximum air pressure of 120 PSI.
It takes only 165 seconds to fill the 8-gallon air tank from empty to 120 PSI. Recovery time from 90 PSI back to a full 120 PSI is around 60 seconds.
In addition to being ultra-quiet, this compressor is also portable, weighing 48 pounds. The CAT-8510 operates on just 8.5 amps, enabling you to plug it in almost anywhere around the house, outside or in the garage.
This air compressor is part of the California Air Tools "Contractor Grade" Ultra Quiet Series. CAT backs the 8510 with a 1-year limited warranty,
CAT-8010 Compressor Pictures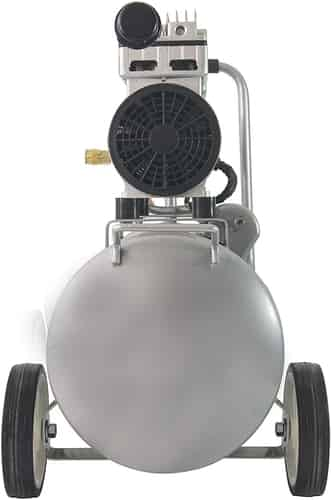 CAT-8010 Right Side View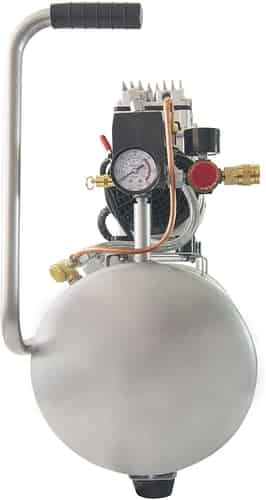 CAT-8010 Left Side View
The 8-gallon steel air tank maneuvers easily with the included handle and wheel kit. Two air gauges monitor tank and air outlet pressure., The line pressure regulator and a quick-connect air coupling within easy reach. The air tank condensate drain valve is a convenient 1/4 turn ball valve for easy tank maintenance.
CAT-8010 Front View
CAT-8010 Rear View
Seen on the left in the top view picture, the 8010 includes a large silencing filter on the air intake to help further reduce compressor noise.
CAT-8010 Top View
​​CAT-​8010

Resources

​​California Air Tools SP-9413 Air Compressor Motor Manual

​California Air Tools ​8010 Ultra Quiet Air Compressor Owners Manual – PDF ​​

Manufacturer's Product Page – CAT-8010

​California Air Tools Customer Service ​Department: 1-866-409-4581
California Air Tools 8010 Specifications
​​60 dB Quiet

​​2.2 CFM @ 90 PSI

​​8 Gallon Tank

​1.0 HP
​​8.5 Amps

Long Life

Dual PSI Gauges

​1680 RPM
Length 26″

Width 14″

Height 23″

48 Lbs.
Our CAT-8010 Ratings
Quietness
60 dB is very quiet for a 1 HP air compressor. Most standard 1 HP models are considerably louder than this..
Quality
California Air Tools is a leader in the quiet air compressor industry, and typically builds quality units for the price paid.
Cost
The 8010 pricing is good for a 1 HP quiet 8-gal. compressor and usually retails between $150 to $180.
Overall Rating : 4.5
This is great ultra quiet portable air compressor that still produces ample power. If 2.2 CFM of airflow is sufficient for your needs, this is a compressor you should seriously consider. We gave the California Air Tools 8010 an overall rating of 4.5 stars.
Pros
Ultra-Quiet- 60 dB

8 Gallon Steel Air Tank

48 Lbs – Portable

Excellent Buyer Reviews
Cons
The Bottom Line
The California Air Tools 8010 produces 2. 2 CFM @ 90 PSI. This is great for operating small pneumatic air tools such as, staple guns, brad nail guns, finish nail guns, airbrushes, blow guns, etc. This is also an excellent portable compressor for tire inflation and maintaining the proper air pressure in your vehicle tires. This is not the compressor to buy for high CFM applications such as auto painting, large air tools, etc.
California Air Tools 8010- ASIN B00WM1VPKE